Tuesday, October 17, 2017 / by Daniel Collins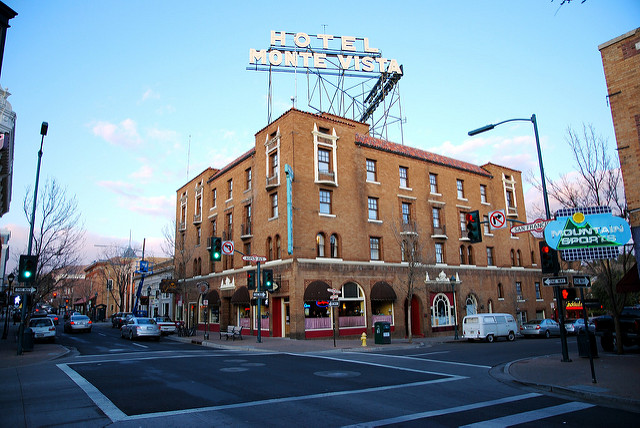 2017 Flagstaff Halloween Events
Flagstaff, Arizona is one of the best places to be in Arizona during the Fall--especially around Halloween. Flagstaff is one of the few spots where the
leaves actually change
, the temperatures drop down, and historic downtown surrounded by sprawling pine trees make for a hauntingly beautiful backdrop to all of your Halloween activities--whether that's taking the little ones out for some trick-or-treating or attending any of the great events listed below. So here are your top 2017 Halloween events in Flagstaff.
Halloween with Lowell Observatory
WHEN:
Friday, October 27th, 5PM-10PM & Saturday, October 28th, 5PM-10PM
WHERE:
Lowell Observatory, 1400 West Mars Hill Road, Flagstaff, AZ 86001
WHAT:
Spooky science demonstrations with "Phreaky Physics" & learn about mind-bending astronomy with "Scary Astronomy". Plus telescope viewing and of course Haunted Observatory Tours! Flagstaff is famous for it's starry skies and this is just another truly uniquely Flagstaff way to enjoy Halloween!
HOW MUCH:
Regular Admission
Cabin Fever Laser Tag and Haunted House
WHEN:
October 26th - October 30th
WHERE:
Cabin Fever Laser Tag 1801 W RT 66 SUITE 202, Flagstaff, AZ 86001
WHAT:
Keep your blood flowing with some fun laser tag and haunted house filled with ghosts, zombies, fog, and creepy robots!
HOW MUCH:
$18 - $23
Halloween Festival
WHEN:
October 30th, 5:30PM - 7:30PM
WHERE:
Boys & Girls Club of Flagstaff 301 S. Paseo Del Flag, Flagstaff, AZ 86001
WHAT:
The kids will love this treat-filled night complete with spooky fun, ghoulish games and frightening food! Trunk or treat, costume contest & haunted bus are just a few highlights!
HOW MUCH:
Free!
"Phantoms" Art Show
WHEN:
Opening October 19th, 4PM-6PM, running through October 30th, 2017
WHERE:
Hozhoni Artist Gallery 2133 North Walgreens Blvd., Flagstaff, AZ 86004
WHAT:
An art show featuring a look at ghouls and phantoms by the Hozhoni artists.
HOW MUCH:
Free!
Looking for something a little more grown-up to do this Halloween? Don't forget to check out what's going on at some of the local bars and restaurants like
The Green Room
,
The Orpheum Theater
,
Hops on Birch
,
The Lumberyard
and many more!
Nothing catching your eye? Check out Flagstaff365 to browse
additional 2017 Halloween Events in Flagstaff
as well as other upcoming events this beautiful holiday season. Thinking you want to avoid the "tricks" involved with renting and looking to "treat" yourself to a new home this fall?
Contact The COLLINS TEAM
when you have some down time between all of the great events happening here in our cozy mountain town this holiday season!
Images used under creative commons license – commercial use (10/17/2017)
Mispah
(Flickr)